TEXTILE INSIGHT MAGAZINE July/August 2021 – With the launch of the Rscuw Project, and Saya's recognition of material waste as a valuable resource, the company continues to clear a pathway to more eco-conscious advancements. In fact, work is already underway creating pilot projects to renew pre-consumer cutting scraps and overstock with key strategic brands.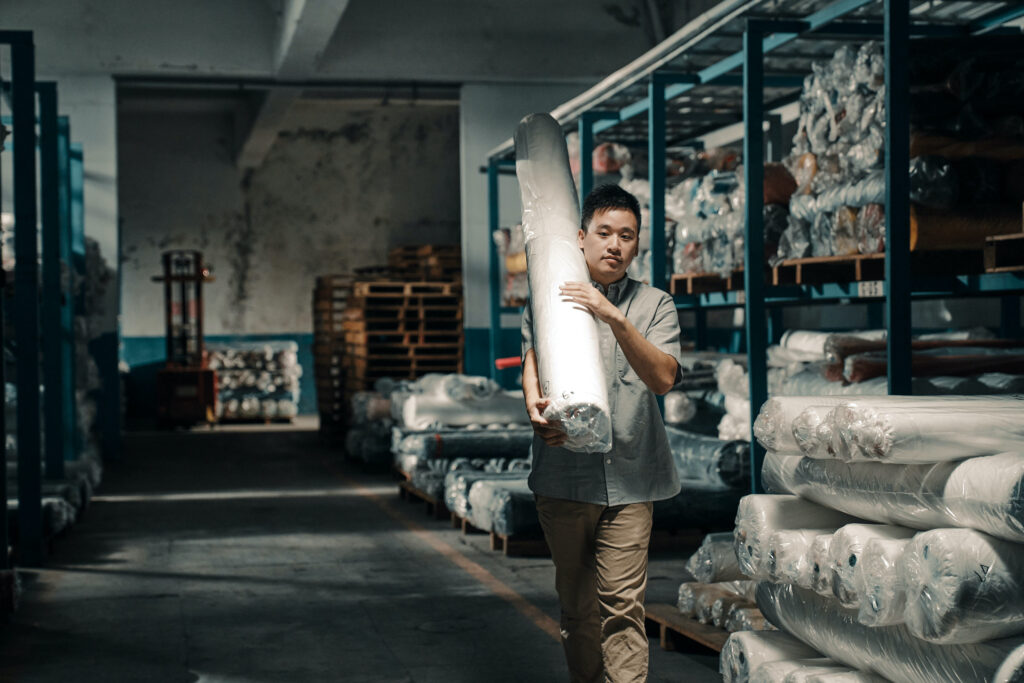 Saya is further elevating renewal efforts, and gathering data, to aid the next big breakthrough: textile-to-textile recycling. In addition, Saya is on track with renewal efforts designed to sort and clean finished garments. This action will facilitate garment recycling, considered the key to opening the door to total circularity.
These commitments to establishing a robust system of renewal will hasten the upcoming introduction of SAYA Garma, a project to recycle finished garments, projected for commercialization by Fall 2022.
Looking even further ahead, the company envisions new and different ways to produce polyester from ingredients other than petroleum. Ready To Renew "As one of the world's largest producers of PET (both virgin and recycled), we understand that increasing the recycling rate is very important," states Jack Chen, Saya director of R&D. (The current recycling rate in the United States is only 29 percent compared to 72 percent in Japan and 48 percent in Europe).
It is also important to note that Saya parent company Nan Ya Plastics has been producing recycled PET out of bottles for more than ten years in 13 facilities worldwide, producing an average of 72,000 tonnes (1 ton = 2000 lbs) of recycled fiber each year. This scale of operation allows R&D into more efficient manufacturing methods and superior and new performance options in fiber.
Also critical to the company's efforts is Saya's proprietary 5-step filtration process and 2-step purification process. What makes this technology stand out from others? And why is it needed? The answer is quality: The biggest challenge in post consumer recycling and renewing is the equality and purity of goods. In order to provide recycled fibers consistently with superior dyeability and strength that can cater to mass market demands, it's not just a quick flush of bottle under a hose. Saya's proprietary purification process becomes mission critical for global brands to rely on.
Charting a Sustainable Future: A Timeline of SAYA's Strides in Renewal Technology
We strive to build upon our successes by finding innovative ways to improve the sustainability performance of our products.
2010-2015
Launch bottle-to-textile recycling
Draw and spin fibers with post-consumer recycling content PET (rPET) chips from Japan
Received certification from Global Recycled Standard (GRS) 2.0
2016-2018
Expanded to new streams of GRS certified rPET flake to include sources from Japan, Taiwan, China, Vietnam, Thailand, Philippine, Indonesia and USA
Launched antimony-free virgin PET (titanium-based catalyst)
Increased from recycling 32,000 tonnes/year of plastic bottles into rPET yarn in 2018 to 65,000 tonnes/year in 2019
2020
Expanded recycled processing capacity to 174,000 tonnes/year
GRS 4.0 certified
bluesign® certification for select manufacturing sites for yarns
Pilot SAC's Higg Facility Environmental Module (FEM) and adoption of Higg Material Sustainability Index (MSI) to assess environmental impacts of materials and processes
Converting garment cutting scraps and overstock fabrics into new yarn – the SAYA Rscuw Project
2021
Expanded recycled processing capacity to 216,000 tonnes/year
bluesign® certification for additional manufacturing sites for yarns
Adopted SAC's Higg Facility Environmental Module (FEM)
Pursue Fair Trade certification to ensure we make a positive difference for the workers that make our products
Commercialization of the SAYA Rscuw Project – converting cutting scraps and overstock fabric into new yarn
https://viewer.e-digitaledition.com/i/1395728-july-august-2021/18?