PLASTICS RECYCLING UPDATE January 19, 2022 – As consumers' appetite for recycled polyester products grows, the industry is facing an unintended consequence: There may not be enough plastic available for recycling to meet the demand.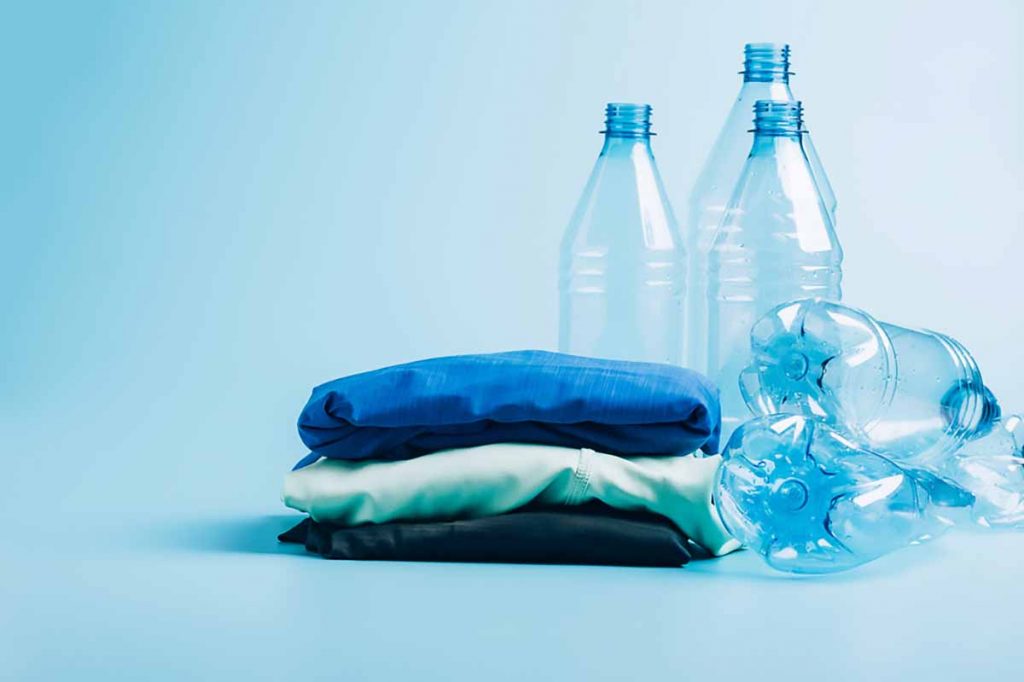 Campaigns such as the Recycled Polyester Challenge 2025 have served as catalysts for sweeping changes in the textile industry, inspiring brands to move away from virgin polyester and use recycled fibers. As a result, Textile Exchange estimates 17.1 million metric tons of recycled polyester will be needed to cover the needs of the apparel industry when the usage is increased from the current 14% to 45% in 2025.
In 2017, roughly 47% of all available recycled PET in the United States was used for fiber products, according to the Association of Plastic Recyclers (APR) and NAPCOR's "Report on Postconsumer PET Container Recycling Activity in 2017." Food and beverage companies were ranked as the second largest users of RPET, at 21%.
At the same time, the volume of PET bottles available for recycling in the U.S. declined for the first time since 2009. As Wood Mackenzie reports, most of the world's bottle collection volume comes from a few key markets (in Western Europe and Asia, primarily), and collection rates are not rising enough to keep pace with demand.
If this trend continues, there simply won't be enough bottles in recycling bins to cover the need for RPET. To address the problem, we need to examine some of the factors at play, from consumer and corporate behavior to fashion industry trends and recycling innovations.
Consumer behavior
We don't want to resurrect virgin bottle usage. However, we can raise awareness to increase recycled plastic collection percentages, especially in the U.S. The problem is not a lack of bottles to recycle. It's that not enough consumers are recycling.
The U.S. falls behind on recycling compared with other nations, while being the biggest consumer of them all. Add to that: The current recycling infrastructure and state policies governing recycling influence the amount of PET that enters the pipeline. Outdated technology in some states and municipalities, plus lack of public education, means that consumers don't know what kinds of plastics can be recycled. Or they try to recycle contaminated plastic, which is rejected by older systems.
The countries that lead the world in recycling, such as Germany and Taiwan, have robust nationwide support for recycling programs, government recycling goals, public awareness campaigns, incentive programs and strict recycling policies for producers.
Business behavior
A few things are happening on the corporate level that are influencing the supply of recycled plastic, for better or worse. First, many large corporations have pledged to eliminate all single-use plastic. This is great news for the environment, but it has an impact on RPET supply. Our hope is that they will continue to offer recycling for customers who bring plastic to their properties.
Second, big beverage brands like PepsiCo and The Coca-Cola Co. are switching to RPET and asking customers to return empty plastic bottles to be remade into new bottles. According to a PepsiCo news release, 11 European markets are moving key Pepsi-branded products to 100% RPET bottles by 2022. In the U.S., the goal is that all Pepsi-branded products will be converted to 100% RPET bottles by 2030. Meanwhile, Coca-Cola has been rolling out bottles made from 100% RPET in North America since early 2021.
It's believed that these brands are offering bottle recovery programs because it's more cost effective for them to collect and recycle their own plastic rather than buy RPET from other sources. It's also a way to guarantee that they have a steady supply of plastic to manufacture new bottles.
Many bottled water companies have also embraced using RPET packaging. Beverage Marketing Corporation reports that, for those bottled water companies that use RPET, the average amount of RPET per container increased from 3.3% to 18.2% between 2008 and 2017.
Learn more in person
End users are strategizing to ensure they have the necessary tonnages of RPET and other recycled resins in the years to come. At the Plastics Recycling Conference outside Washington, D.C. March 7-9, top analysts from ICIS will break down the range of market forces at play in the "How to Square Supply and Demand" session. Register today!
Monitoring cost of raw material
Availability is, of course, also related to cost. In the past, it was much easier to find virgin polyester fibers and pellets than recycled ones. But that trend is shifting. The cost of virgin PET plastic rises with the rise in global oil and petroleum prices.
Trade magazines such as Plastics News have observed that the cost of virgin pellets is starting to catch up to the cost of recycled pellets. Ideally, this means fiber mills may have easier access to recycled materials. In turn, recycled polyester fiber will become more widely available to meet consumer demand. But again, this all depends on a steady stream of consumer-recycled bottles.
Alternative sources of recycled polyester
One source of recycled polyester that hasn't received enough attention is pre-consumer scraps and overstock, or left-over rolls of fabric. At SAYA, we've found that, compared with post-consumer bottles, collecting industrial waste is more effective.
The price is currently higher to process and remove colors and finishes from pre-consumer waste, but we believe it's a worthwhile investment in the long run. The textile industry has a responsibility to clean up its own mess. Fast fashion trends over the past several years have resulted in more overstock and dead stock than ever before. That's a lot of material that can be recaptured and recycled, creating a more circular industry. This year, SAYA's scrap recycling program, Rscuw goes into commercialization stage. We forecast a capacity to recycle 62,500 metric tons of mixed-stream, pre-consumer fiber in 2022 and 117,500 metric tons in 2023. We're hopeful that this will lead a trend toward more fabric recycling market wide.
In the absence of a nationwide U.S. government push to increase bottle recycling, it's up to all of us in the industry to find creative solutions to ensure there's enough RPET to sustain demand in the future.
Mike Shih works with SAYA as a marketing executive. SAYA strives to bring new life to what was once discarded by manufacturing sustainable performance fibers from recycled resources and redefine what's possible in textile renewal. SAYA is able to push the boundaries of innovation, thanks to its parent company Nan Ya Plastics, a branch of the Formosa Plastics Group and a global leader in performance fibers. Nan Ya is dedicated to continuous innovation to stay ahead of fast-moving market trends and raise the bar of the entire industry.